Discover more from Letters from a Luftmensch
A chronicle of self-construction
Dear friend,
Last May, in lieu of attending my college graduation ceremony, I flew to Portugal to walk the Camino de Santiago on my own. I embarked on this ancient Catholic pilgrimage because I sought answers to questions I had grappled with for years, the same ones that people across cultures and centuries have asked themselves: Who am I? Why am I here? How shall I live? 
The years prior to the Camino were characterized by a feeling of deep unsettlement. College, where I made few friends and largely inhabited the bowels of the library, had been interrupted by COVID. After a year of feeling like a disembodied mind hovering in front of a screen, I spent a summer working on a farm in Alaska (a story for another time), then decided to leave the master's program I was enrolled in, crammed my remaining undergraduate classes into one semester, and completed my senior thesis while running a co-living mansion in the Bay Area. I lived with brilliant founders who threw lavish parties, yet felt utterly foreign to myself.
I had hopped from one life path to another, unsatisfied with any, yet uncertain of what I truly desired. Visions of the "good life" I was told to aspire toward — whether from parents, professors, or peers — felt misaligned with some inner truth I could not yet articulate. I wanted time and space to consider who I wished to become, far from the mimetic pressures and commotion of my everyday life. 
I do not know what drew me to the Camino, only that it called so strongly that I booked my plane ticket with only two weeks to spare. My minimal planning consisted of trawling a few forums and compiling a loose itinerary the night before. This was my first time backpacking for longer than a weekend; I broke in my shoes while on the trail. Something — perhaps youthful hubris, perhaps my belief in a protective divine force — convinced me I had nothing to fear. I arrived in Lisbon one balmy evening, then took the train to Porto to begin my 11-day, 250-kilometer trek.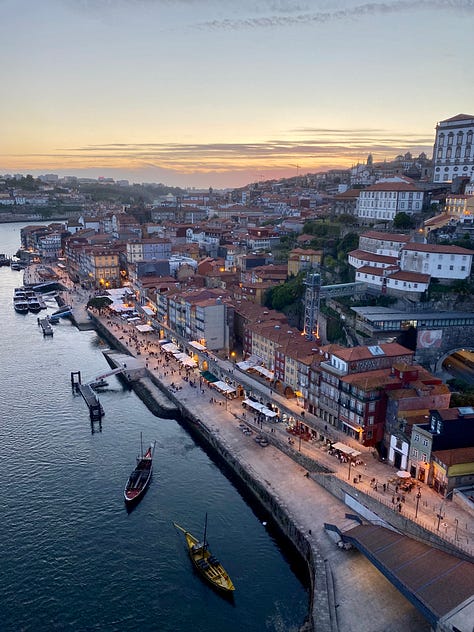 The days that followed were were blessedly unhurried. I awoke before dawn, and walked a few hours accompanied by the rising sun. Mid-morning, I would stop at a cafe, savor a café con leche and a pastry, then continue walking until lunch, which usually consisted of a pilgrim's meal of rice, meat, salad, bread, and wine. I would usually arrive at the albergue, or pilgrim hostel, in the late afternoon, then wash off the day's grime and meet friends for dinner. Despite the long days, it was a leisurely journey. Every pilgrim followed the yellow arrows forward at their own pace. The focus was not on arriving, but on savoring the present — witnessing every freckle of beauty, relishing the vastness and minutiae of every moment.
"The Camino provides" was a statement echoed by many pilgrims throughout the journey. I hadn't understood it until I experienced it myself. One morning, after traipsing through a furious downpour for hours, hungry and drenched with no town in sight, I came across a small basket of oranges set outside a farm gate for pilgrims. Whether it was a bandage, a rousing word of encouragement, or a tender heart-to-heart, whatever I needed turned up in one way or another. Call it luck, call it fate, call it divine intervention — but I think this serendipity stemmed from our collective belief in the inherent goodness of our fellow pilgrims, and our unspoken agreement to live up to it.
Along the way, I grew to appreciate why people throughout history have memorized poetry and songs: to keep them company in times of loneliness, to grant them courage in times of fear. In the last few days of the Camino, limping from agonizing shin splints, I looped the few poems stored in my head — Dickinson, Rilke, Frost, Oliver, Yeats, Henley — to distract me from the pain.
In the fell clutch of circumstance
      I have not winced nor cried aloud.
Under the bludgeonings of chance
      My head is bloody, but unbowed.
I arrived at Santiago de Compostela at 7 a.m. on a Sunday, as the sun was just beginning to rise and only a few shopkeepers loitered in the streets. A cigarette-smoking restaurateur chuckled at my wide-eyed amazement as I plodded toward the cathedral. There, I stood among a flock of pigeons and savored the silence, breathless with wonder.
Later that morning, as I walked through the holy door of the cathedral for morning mass, I reflected on what a profoundly beautiful experience it was to traverse the same mountains, rivers, and forests as countless before me, and to ask the same questions that people have asked themselves since time immemorial. Who do I wish to be in the world? What am I called to do? While the Camino did not grant me definitive answers, it gave me the reassurance that I was not alone in my questioning.
Some say that arriving at Santiago marks the end of the physical journey, but the beginning of a new spiritual one. It's taken me a year to write this, partially because I'm continually unraveling new reflections. All my learnings seem unbearably trite: that the most beautiful parts of life are largely unplanned; that we should follow our instincts; that we're stronger than we believe ourselves to be; that we're never truly walking alone. That if we approach the world with curiosity and love, the world will open itself to us in return. But perhaps that's why clichés are such — the truth is often obvious. The real challenge is not simply knowing what's true, but living it. 
In his essay, "Walking," Thoreau cites the dual origins of "sauntering": aller à la sainte terre, going to the holy land; or sans terre, without land or home. Having not felt at home in the world, I had sauntered to the holy land to seek it. But the Camino did not reveal a home in the world, but one within myself: a degree of self-understanding and self-belief that came with walking alone in a foreign country for 11 days, that reassured me that regardless of where I was with the world, regardless of whom I was with or without, I could always return to myself.
All journeys end the same way: on the Camino, at Santiago; in life, with death. The world is far bigger than the maps we are given — only by granting ourselves the time and space to wander can we discover what paths are truly ours, rather than defaulting to the well-trodden. The Camino gave me the conviction that we are called walk our own paths — ones that cannot be planned for or copied from another, and can only be made sense of in hindsight. Everything we choose to do, even if seemingly disparate and nonsensical, comes together to form a greater whole. Only by living at the edge of the unknown and embracing uncertainty can we fulfill the ultimate task of becoming ourselves.
Now, I'm writing this in the midst of a sabbatical. The question of what's next? defines my days. Despite the great expanse of the unknown, for once, I'm cherishing it. I no longer seek to craft a rigid plan; instead, I allow myself to be guided by what feels true. While I cannot predict what lies ahead, I know the path will be filled with far more beauty and wonder, trials and tribulations than I can currently envision. For now, I am simply putting one foot in front of another — searching for the road less traveled; seeking hints of the divine within the mundane; stretching, stumbling, sauntering toward the light. 
Wishing you glorious journeys ahead.
With love,
Ash